K Wire (Kirschner Wire) Specification, Uses, Sizes and Surgical Techniques.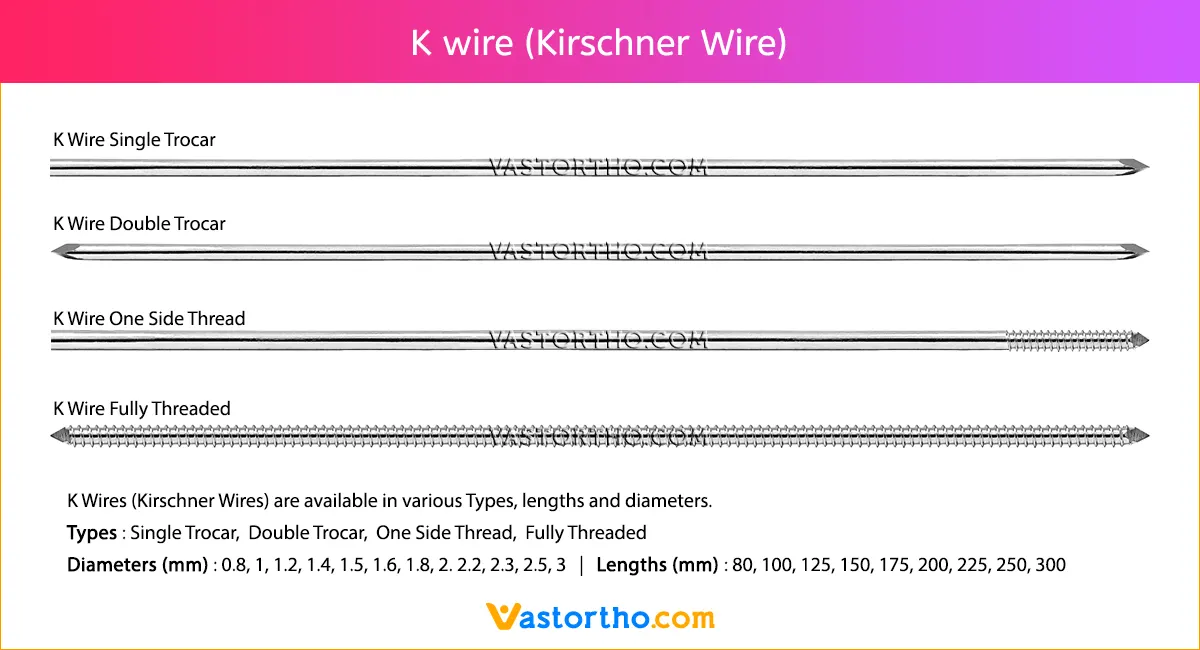 Kirschner wires or K wires are metallic wire (stainless steel) sharpened one or both side, are used to hold bone fragments together (pin fixation) or to provide an anchor for skeletal traction.
K wire (Kirschner wire) is now widely used in orthopedics and other types of medical and veterinary surgery. These wires can be drilled through the bone to hold the fragments in place. They can be placed percutaneously (through the skin) or can be buried beneath the skin.
K-wires are often used to stabilize a broken bone and can be removed in the office once the fracture has healed. Some K-wires are threaded, which helps prevent movement or backing out of the wire, although that can also make them more difficult to remove.
K Wires (Kirschner Wires) are available in various Types, lengths and diameters.
Types: Single Trocar, Double Trocar, Fully Threaded
Diameters: 0.8mm, 1mm, 1.2mm, 1.4mm, 1.5mm, 1.6mm, 1.8mm, 2mm. 2.2mm, 2.3mm, 2.5mm, 3mm
Lengths: 80mm, 100mm, 125mm, 150mm, 175mm, 200mm, 225mm, 250mm